---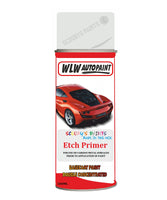 Enhance the durability and adhesion of your coatings with our 500ml Etch Primer Aerosol Spray. Designed for use on a wide range of surfaces including bare metal, aluminum, steel, and alloy, this multi-purpose adhesion promoter is the secret weapon for achieving professional-quality results.
Key Features
Enhanced Adhesion: Our Etch Primer Spray forms a strong bond between your coatings and the substrate, ensuring long-lasting performance.
Versatile: Suitable for use on various surfaces, from bare metal to aluminum, steel, and alloy, making it ideal for automotive, industrial, and DIY projects.
Quick and Easy Application: The aerosol spray canister allows for precise and even application, reducing overspray and waste.
500ml of Coverage: With a generous 500ml capacity, you'll have plenty to tackle your projects, big or small.
Professional Results: Whether you're a seasoned pro or a DIY enthusiast, our Etch Primer Spray will help you achieve a flawless finish.
Upgrade your coating projects with confidence using our Etch Primer Aerosol Spray. Ensure excellent adhesion and a professional finish every time. Trust in the quality and versatility of this product to meet your coating needs.